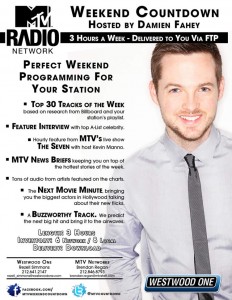 MTV WEEKEND COUNTDOWN with DAMIEN TOP 20 of 201
*Introduction Drop ID: THE WANTED
#20.  Blow Me (One Last Kiss)/PINK
Drop ID: JESSIE J.
Extra: Domino/JESSIE J.
Drop ID: DAVID GUETTA
#19.  Titanium/DAVID GUETTA featuring SIA
Segment Facts:
*"Blow Me (One Last Kiss)" is from Pink's 6th studio album, "The Truth About Love" which was released in September.  In 2013, Pink will have a world tour starting in February.
*Nicki Minaj released "Pink Friday: Roman Reloaded" this year along with her Pink Friday fragrance line.    She didn't receive any Grammy nominations this year her album.  She also signed on as a judge for American Idol.  Interview Quote about taking risks in her life, "Do I just stick to the script and put the same old and you know not stretch and just be lazy and do what I know is going to work or do I take a chance.  You know, I took a risk."   
Drop ID: JESSIE J.
Drop ID: DEMI LOVATO
#18.  Give Your Heart A Break/DEMI LOVATO
Drop ID: TRAVIE McCOY
Extra: *** Back Home/GYM CLASS HEROES featuring NEON HITCH
Segment Facts:
*People that we lost this past year: (actor Michael Clarke Duncan, director Tony Scott, Beastie Boy Adam Yauch, Dick Clark and Whitney Houston).  At the 2012 VH1's Diva show, Adam Lambert said this about Houston's passing, "There's no one else that can sing like Whitney and everybody always known that.  Since she burst onto the scene, people were like 'dang' that's a voice.  You know, it's really sad; it's really sad.  It's nice to see people celebrating her memory and celebrating what she contributed as an artist right now.  It's nice that people are focusing on the positive.  I think it's the best thing we can do."
*MTV News segment with Brendan Regan
**Flo Rida had a great year his single "Good Feeling" was certified platinum three times.  He released his 4th studio album, "Wild Ones".   Interview quote about his year, "Oh man, phenomenal and I think next year is even going to be bigger.  I actually just did some recording and I have like seven records so far.  I mean, I look forward to a great year next year as well.    
**Hunter Hayes crossed over to the pop scene with his single "Wanted".  He performed at the Grammy Nominations concert where he learned that he was nominated for best new artist.  Interview Quote from Hayes about his success in 2012, "This year playing on the stage and all the things that are happening.  It's kinda of a role reversal because I stood in lines to get autographs."
**Pink released "The Truth About Love" album in September and it debuted @ #1 selling 281,000 copies in just its first week and it was certified Gold.  Interview Quote about Pink's career changing over time, "I was never really worried about whether people would buy into it.  It was just who I was; so if people were going to dig me, then they were gonna to have dig what was in me."
Drop ID: NEON HITCH
Drop ID: DAVID GUETTA
#17.  Turn Me On/DAVID GUETTA featuring NICKI MINAJ
Drop ID: SNOOKI
Extra: Part Of Me/KATY PERRY
Buzzworthy:  United State of Pop 2012/DJ EARWORM
Segment Facts:
*David Guetta celebrated his 20th wedding anniversary this year.
*Katy Perry re-released "Teenager Dream" which included "Part of Me" & "Wide Awake".  In the summer, she was in the documentary concert film 3D: Katy Perry Part of Me.  Billboard magazine named her "Woman of the Year".  Interview Quote about her year, " In the very beginning of the year, I felt like I needed to get right back into the studio and just kinda like pour my heart out.   But now as I'm like digesting everything I'm thinking to myself I need to make a record that is beyond my present and more about my future and what's coming for me in the next three years because that's how long the next record will last."
Drop ID: DAVID GUETTA
Drop ID: RIHANNA
#16. We Found Love/RIHANNA featuring CALVIN HARRIS
Drop ID: JC CHASEZ
#15.   Set Fire To The Rain/ADELE
Drop ID: fun.
Extra:  Some Nights/fun.
Segment Facts:
*Adele gave birth to her first child in October with her boyfriend Simon Konecki.
*Rihanna has released a new album ever year for the past seven years.  Her most recent is "Unapologetic" which was her first to debut @ #1.  To promote the album, she packed a plane with fans and reporters that embarked on a tour of seven shows in seven different countries in seven days.  It was named the 7-7-7 tour.  Rihanna plans to start her 5th headlining in March of 2013 called "The Diamonds World Tour".  She also made her acting debut in 2012 with Battleship.  Interview Quote about seeing the completed film for the first time, "I was extremely blown away seeing it back.  It was just completely different magnitude and I definitely was weirded out by seeing myself on screen and hearing myself speak in an American accent.  It was kinda weird."  
Drop ID: SNOOKI & JWOWW
#14.   One More Night/MAROON 5
Drop ID: RIHANNA
#13.  Where Have You Been/RIHANNA
Drop ID: JUSTIN BIEBER
Extra: As Long As You Love Me/JUSTIN BIEBER featuring BIG SEAN
Segment Facts:
*Justin Bieber recorded his third studio album "Believe" in June of 2012.  He worked with producers Darkchild, Hit-Boy, Diplo and Max Martin to help create a more mature sound.
*Chris Brown got into a fight on Twitter with a female comedian.  Then, he deleted his Twitter account.  Then, he came back to Twitter.  He broke up, got back together and broke again up with a girlfriend.  Also, he got into a fight with Drake at club supposedly over Rihanna.  Interview Quote with Chris Brown about his being sorry, "I really apologize definitely about the situation (with Rihanna).  When I do it publicly, it's for the people who I let down.  For like the fans, it's for all the people even the sponsors even the people invested in me and thought I was a good enough role model.  I wanted to really apologize for the people I let down and really show people that I am wrong for what I have done.  But, I want people to learn from it to see that I'm apologetic."
Drop ID: BIG SEAN
Drop ID: DEENA from the JERSEY SHORE
#12.  Wide Awake/KATY PERRY
Drop ID: Tyler from NEON TREES
Extra: Everybody Talks/NEON TREES
Segment Facts:
*Ne-Yo is now senior VP of A&R at Motown records.  He released his 5th studio album "RED" in 2012.  The album title stands for realizing every dream.  Interview Quote about the "RED" album, "Basically, from the age of nine was when I said you know what I don't want to be a superhero anymore.  I want to do music at nine years old.  From nine to now, every goal that I set for myself, every dream that I had has been realized all through music, so this album is a celebration of that."
Drop ID: FLO RIDA
Drop ID: TYLER POSEY, COLTON HAYNES & HOLLAND RODEN of TEEN WOLF
#11.  What Makes You Beautiful/ONE DIRECTION
Drop ID: FLO RIDA
#10.  Good Feeling/FLO RIDA
Drop ID: TAYLOR SWIFT
Extra: We Are Never Ever Getting Back Together/TAYLOR SWIFT
Segment Facts:
*Wiz Khalifa scored his second #1 debut on the R&B/Hip Hop charts with the release of O.N.I.F.C.  The album also debuted @ #2 on Billboard's Top 200.  Khlaifa and Taylor Gang traveled 54 cities for their 2050 tour.  Khalifa was on Forbes' 30 under 30-music list.  He also got engaged to Amber Rose.  He also announced at the 2012 MTV's VMA that they are expecting.  Interview Quote with Wiz Khalifa talking about Amber Rose, "I love her personality.  I love how nourishing she is.  (It) goes with her personality.  I love how smart she is.  She's really intelligent.  Really like witty you know about things.  I have like a really good intuition what just knowin' when to move and when not to move and she shares that with me.  You know what I'm sayin' and she just knows a lot.  She's just a real caring person."
*MTV News segment with Brendan Regan
**Alicia Keys released "Girl on Fire" in November and she actually performed the title for the first time at 2012 VMAs along with gymnastic routine with Gabby Douglas.  Interview Quote about the new album, "I love this album.  It definitely has so much diversity.  There (are) so many real songs for you to just dive into and explore in every part of your life."
**Drake received Grammy nomination for best rap performance, song and album.  Interview Quote from Drake about the advice he received from Lil' Wayne about songwriting, "He said it's not about making things up.  You don't have to worry about making things up if really are writing from an honest perspective your thoughts are in there.  You just have to locate them."
**Trey Songz filmed the Texas Chainsaw Massacre 3D in 2012 which will hit theaters January 4, 2013.  Interview Quote with Trey Songz about the film, "Texas Chainsaw was definitely a thrilling experience just to be a part of something so different from my world.  Horror movies are fine.  It was a great director.  It was a great cast.  I had a great time."  
Drop ID: TAYLOR SWIFT
Drop ID: LIL' WAYNE
#09.  Starships/NICKI MINAJ
Drop ID: DJ PAULY D
Extra: Too Close/ALEX CLARE
Drop ID: KELLY CLARKSON
#08.  Stronger (What Doesn't Kill You)/KELLY CLARKSON
Segment Facts:
*Kelly Clarkson recently got engaged to her boyfriend Brandon Blackstock, who is Reba McEntire's step-son and Blake Shelton's manager.
*Ellie Goulding's debut single "Lights" was actually released in 2011.  It has been certified triple platinum this year.  She released her second album, "Halcyon" in October with "Anything That Can Happen" as the lead single.  Interview Quote about how she has grown since the release of her first album, "I have (grown) quite a bit since the first album because I discovered so much more and I learned a lot more and I've grown up a lot more."
Drop ID: Tom from THE WANTED
Drop ID: FLO RIDA
#07.  Wild Ones/FLO RIDA featuring SIA
Drop ID: USHER
Extra: Scream/USHER
Interview Quote with The Wanted talking about "Glad You Came", "We were drunk at a table.  Yeah, we were drunk at a hotel while writing the tune on my 18th birthday.  It was amazing.  A guy we have written and worked with before Steve Mac and he's great and Edward (Drewett) who is a good friend of ours and also an artist in the U.K.  They pitched the song to us and I mean obliviously "Glad You Came" is a party song.  People need to hear when they had a few beers when had more than a few than a few; and we though it was great."     
 Pick of the Week: Catch My Breath/KELLY CLARKSON
Drop ID: WIZ KHALIFA
#06.  Payphone/MAROON 5 featuring WIZ KHALIFA
Drop ID: FLO RIDA
Drop ID: fun.
#05.  We Are Young/fun. featuring JANELLE MONAE
Drop ID: FLO RIDA
Extra: Whistle/FLO RIDA
#04.  Call Me Maybe/CARLY RAE JEPSEN
Segment Facts: Flo Rida has the most songs on the year-end countdown with three; they are all in the Top 10.
*Next Movie Minute: Judd Apatow directs the film "This Is 40".  It's about couples after they hit the big "4-0" and the little issues that get on each other nerves.  Actress, Leslie Mann, says those little issues aren't always bothering your partner, "Well, I don't think it's ever about the little issues.  I think there's always like some big problem; and you get to let off steam by yelling at them about the little issues like sitting on the toilet with his Ipad for too long."  Paul Rudd shares about not being able to stand someone you love sometimes, "Issues with just being a 'yeah for' for awhile and trying to tolerate each other when sometimes it's tough when you're just married to somebody that doesn't tolerate them sometimes.  You love them, but you also can't stand them."   The film also stars John Lithgow and Megan Fox.
Drop ID: GAVIN DeGRAW
DROP ID: GOTYE
#03.  Somebody That I Used To Know/GOTYE featuring KIMBRA
DROP ID: CHRIS BROWN
Extra: Don't Wake Me Up/CHRIS BROWN
#02.  Lights/ELLIE GOULDING
Segment Facts:
*Gotye's "Somebody That I Used To Know" went 5 times platinum in the U.S.  It peaked @ #1 on the Billboard Hot 100 and is the 15th most viewed video of all-time on Youtube.  He received three Grammy nominations.  Interview Quote with Gotye about what he is most proud of this year, "When I look back on the last year, I think I'm most proud of just sticking with it.  That would seem odd considering that there's been, you know constantly surprising levels of success with this song and with my record.  There's actually been a lot of moments making the record and through that where I haven't been sure necessarily the path I wanted to take."
*Psy's "Gangnam Style" is the most watched Youtube video ever with over a billion views.
*MTV News segment with Brendan Regan
**Elizabeth Banks, who plays Effie Trinket in the "Hunger Games", reflected on her first of four in the series, "The 'Hunger Games' was, has been a great ride.  Really fun…I love Effie Trinket.  I hold her very near and dear to me.  She's a fabulously fun character to play."
**The Twilight Saga finally came to an end in 2012 and Kirsten Stewart says she isn't just walking away from the franchise, "It's what I love about this job.  You hold these things.  I wouldn't have done it in the first place unless it was something I would always carry."
**Mark Ruffalo talks about The Hulk in the filming scenes in the "The Avengers", "I was tough and I wish I had a cool costume to wear the entire time instead of a leopard that was painted like a Chinese checker board."
Drop ID: Tom from THE WANTED
Drop ID: THE WANTED
#01.  Glad You Came/THE WANTED