Discovering the history of the non-American Top 40 shows has been a great pleasure over the past few years (beyond what I remember in real time back in the 80's).
What I can go on…is cue sheets emails/phone calls from other collectors of countdown radio history as my memory isn't always a 100 percent accurate.
I'm going start with the Weekly Top 30. Don't worry they all do connect to Countdown America.
I ran across Ted Frost from Los Angeles who had a bunch of Weekly Top 30/Weekly Music Magazine shows and a reel-to-reel tape dated April 1979 Weekly Top 30 demo from the late BILL DRAKE. I never bought the tape as he was asking in the neighborhood of $75 and I don't have any means of playing it. It's safe to say that was the beginning of the first rival of American Top 40.
From the demo tape and good reception from radio stations, the show began on June 30, 1979 with Mark Elliott as the host.  Please Refer to Rob Durkee's book "American Top 40: The Countdown of the Century" book pages 151-153 for more detail about this show and its run.
One correction to Rob's book, the show ended January 2, 1982 not January 9, 1982. The last three shows were:
*December 26, 1981 last regular 1981 show
*December 31, 1981 Special Six Hour Countdown of the Top 80 of 1981
*January 2, 1982 last show
My guess is that some stations did the Top 80 over two weeks or just played the Top 40 of 1981 on January 2, 1982 and the last show the following week instead of picking the next offering of Drake-Chenault to replace the Weekly Top 30, The Weekly Music Magazine hosted by Charlie Van Dyke. We are getting closer to the start of Countdown America with John Leader.
January 9, 1982 marked the start of Charlie Van Dyke's show Weekly Music Magazine with Elvis Presley as the 1st featured artist. It lasted until January 1, 1983 with Part 2 of the Top 60 of 1982. With some luck, it took me over 25 years to finally hear the last part of this show, so I know the pain of not finding shows for years.

Here's where the history of Countdown America starts from a letter dated December 1, 1982:
 "I regret to announce that the 'Weekly Music Magazine' will discontinue production with our New Year's show scheduled for broadcast January 1/2.
During the last year, the 'Weekly Music Magazine' was distributed by the RKO Network. RKO has opted for a new production in 1983 called 'Countdown America'.
 Since early Fall, we've been talking to various sponsors regarding the 'Weekly Music Magazine', but we've been unable to finalize anything.
Thanks very much for your support of the show. We look forward to being of service to you in the future.
Happy Holidays,
James Kefford
President
JK/pg"
Next, I'll cover what I know about Countdown America, Countdown USA and Dick Clark's connection to American Top 40 CHR/Pop rivals during the period of 1983 to 1990.
Before we go into Countdown America's amazing history, we need to go back to 1981. Dick Clark started his own national music countdown on May 30 featuring the Top 30 songs of the week based on Cashbox magazine. Keep this in mind, as he will later play a role in Countdown America.
Although I don't have the very first Countdown America with John Leader, it's a safe bet to say that the very first show began on January 8, 1983 based upon that December letter by James Kefford. The earliest show I have dates February 26, 1983. It was a three-hour with the Top 30 based upon Radio & Records chart, which was a departure from Weekly Top 30/Weekly Music Magazine self-produced chart.
If you study the Weekly Top 30 shows, you will find an amazing mistake in the production. During an earlier show, they mention that "Endless Love" took over the lead from "Bette Davis Eyes" as the #1 song of 1981. When it came to the year-end chart, the songs were reversed. I suppose knowing production was stopped there was little point of being 100 percent accurate at that point. Those charts of WT30 & WMM are a real treat to following with beyond belief movements. I'll give one example "Another One Bites The Dust" by Queen chart run:
25-7-2-1-1-8-18-19-23-26-13-30.
It debuted 9-13-80 and left the chart 11-29-80. For the year of 1980, it was ranked #14. Queen also had #15 for 1980 with "Crazy Little Thing Called Love".
Until March 12, 1983, Countdown America was the only CHR/Pop show using the Radio & Records charts. Then, after 93 weeks, Dick Clark National Survey drops Cashbox for R&R. Thus, we now have two Top 30 shows with the same song rankings. Supposedly, this is the year that Rick Dees debuts his national Weekly Top 40 show. I say supposedly because no collector has ever produced a 1983 show.
Was it just a local show with national rankings in 1983? For now, we don't know. The earliest show that I found was January 13, 1984 on vinyl. I bring this up only because Rick Dees used the Cashbox charts in 1984 shows.
Could have this been the reason for the chart change by Dick Clark?
I can't this answer question.  However, in 2012 Rick Dees said (in an interview) that Dick Clark approached him about buying his Weekly Top 40 show, so they could both "make money".  As of this writing, I haven't heard from Rick on this topic.
Countdown America was stable until December 24, 1983 when the first four-hour was produced as a part of the Year-End countdown: Top 83 of '83.  I will say that the song medley production was outstanding.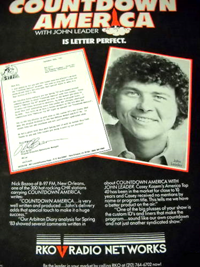 1984…This was not only an important year for Countdown America as it switched to the four-hour format.
Also, Dick Clark added an AC show to his Dick Clark National Music Survey offerings. The exact date, I don't know, as the earliest one I have is September 8. The cue sheets do not help determine the beginning of Clark's AC show. However, later on this will play a role with Countdown America.
Why did Clark add the AC show?
Besides the obvious of making more money, Wink Martindale had an AC show called 20/20 Music World in 1982, where he would play an oldie followed by current Top 20 song thus the name (20 oldies/20 currents). Not sure when it began or ended but Clark could have tried to fill the gap left by Martindale. I have no 20/20 Music World shows for reference just some handwritten chart notes that are difficult to decode.
I will add that 1984 also saw the debut of another CHR/Pop countdown, Dan Ingram's Top 40 Satellite Survey. This show lasted 141 weeks ending December 26-28, 1986. I have found the #8 show dated June 8-10, 1984, so we can safely assume the debut date based upon that show. I also found December 13, 1986 with guest host Bob Shannon with cue sheets that state end date of the show. This was a three-hour Top 40 show with a self-produced chart. Thus, it is an incredible chart study if you can find these shows. I have run across about 10 shows so far.
1984 ends with John Leader & Rick Dees doing the Top 84 of '84 during the last week of the year and the first week of 1985; while Dick Clark does the Top 30 CHR & AC songs, the first week of the 1985.
1985 featured more upheaval in the countdown world. After 231 weeks, the Dick Clark's National Music Survey became the National Music Survey. Dick Clark went on to replace John Leader as the host of Countdown America, thus the new name Countdown America with Dick Clark. The last show of Countdown America with John Leader that I have is October 12, 1985, so I don't know how John handled the ending during the show or the promos used with Dick Clark as the new host. I do know this much…Dick Clark was the host of Countdown America on November 2, 1985 based upon the December 7 show that called it show #6.
Dick Clark made no mention of leaving the National Music Survey on his last show October 26, 1985 on either the CHR/Pop or AC version. However, the promos mentioned a Special Super Song countdown coming next week with Bill St. James & Mike Love of the Beach Boys. They made two versions of the special countdown CHR/Pop & AC featuring the Top 30 songs of the past 10 years (1975-85). Here's where it became interesting; they also included a list of the Top 100 songs of the past 10 years. This is where stations wanting a "bigger countdown" could produce their own countdown show. Not sure if there were any takers…as no collector has come forward with a local station air-check.
Bill St. James & Mike Love continued to produce two versions of the show until at least March 15, 1986 as that is my last copy of a CHR show. My guess is that sometime between March 22 and April 26 that the National Music Survey became just an AC show. So far, I know that Charlie Tuna, then Bill Meyer with Sylvia Emerita hosted the National Music Survey when Bill St. James left. More details will come out as the search for these shows continue. The show lasted somewhere between 400-500 weeks counting Dick Clark's 1981 debut.
Countdown America is now in the hands of Dick Clark. First change, no two part year-end show with song medley production, instead, Clark opts for Top 40 of 1985 on January 4, 1986.
Meanwhile, two new Pop countdowns debut while Countdown America and National Music Survey go through changes in 1985.
Scott Shannon's Rockin' America The Top 30 Countdown used the R&R chart as its foundation for the three hour show. The actual start and end of this is unknown at this point. The earliest copy I have is 3-9-85. The show did go through a name and chart change in 1991. The actual date is unknown my best guess would the first week of 1991. The show became Scott Shannon's Rockin' America All-Request Top 30 Countdown meaning no more use of R&R charts.
On The Radio provided an interesting twist for programmers. Hosted by the late Ron O'Brien, it was only one hour long. Many stations used it as a supplement to AT40, Rick Dees Weekly Top 40 and Countdown America to complete a five-hour block of time. It featured the Top 5 songs of the week with lots of interviews and an amazing closing credit feature. I have been able to locate shows between 2-1-85 and 12-28-91. I'm not sure on this show's start or end date and what happened after 1991 with new host or adding versions.
Dick Clark made even more changes to Countdown America in 1986. He dropped the CHR/Pop Top 40 songs of the week for the Top 30 AC songs on July 5. I don't know how Clark handled the dropping of the CHR/Pop. If someone has the 6-28-86 show, they probably know from the cue sheets, promos or actual show. Countdown America with Dick Clark would eventually become a three-hour show and go down to Top 20 AC songs. At some point between 1-14-94 and 4-5-96, the show changed its name from Countdown America with Dick Clark to Dick Clark's U.S. Music Survey. He would continue to host this show until he suffered his stroke. The show had guest hosts for a year or two until the show finally went dark.
With Dick Clark no longer doing a CHR/Pop show, John Leader made his return to the countdown market. Being that Clark used the Countdown America name, he revived his countdown hosting duties by creating Countdown U.S.A. with John Leader on January 11, 1986. I don't know how the first show sounded, as the earliest available copy I have is 1-18-86 with spotlight artist as Night Ranger.
This also marked the return of the song medley with the year-end Top 86 of '86. It also marked the end of John Leader's countdown career with this year-end show.
The promos on 1-3-87 show were done by Dave Sholin; thus marking the beginning of his countdown the following week as Countdown U.S.A. with Dave Sholin.
Countdown U.S.A. with Dave Sholin lasted until 1990. I believe April 21. I don't have shows or cue sheet to confirm this. I do know this; Dave Sholin's Insider debuted 4-28-90. It was a four-hour show similar to Countdown U.S.A. with longer segments and comedy bits ('the joke of the week") that used the Gavin CHR/Pop chart. I'm not sure of the end date. The last show I have from this series is 7-21-90 (show #13).
The 90's sure gave us some curveballs as well (new shows and added versions to deal "Rap Crap/Too Heavy Metal Era").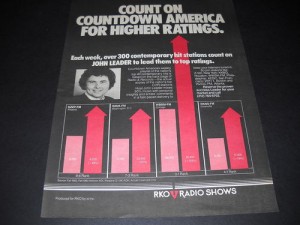 Some side notes:
*Dick Clark guest hosted on AT40 before starting his own show Dick Clark's National Music Survey (refer to Rob's book for actual date)
*Mark Elliott guest hosted on AT40 before starting his show Weekly Top 30 (refer to Rob's book)
*John Leader guest hosted on Weekly Top 30 before starting his own show Countdown America with John Leader (3-29-80)
*Rick Dees guest hosted on Weekly Top 30 before starting his own show Rick Dees' Weekly Top 40 (6-6-81)
*Ron O'Brien guest hosted on Weekly Top 40 before starting his own show On The Radio (7-14-84)
Finally, you have any corrections or additional information, please feel free to contact us.