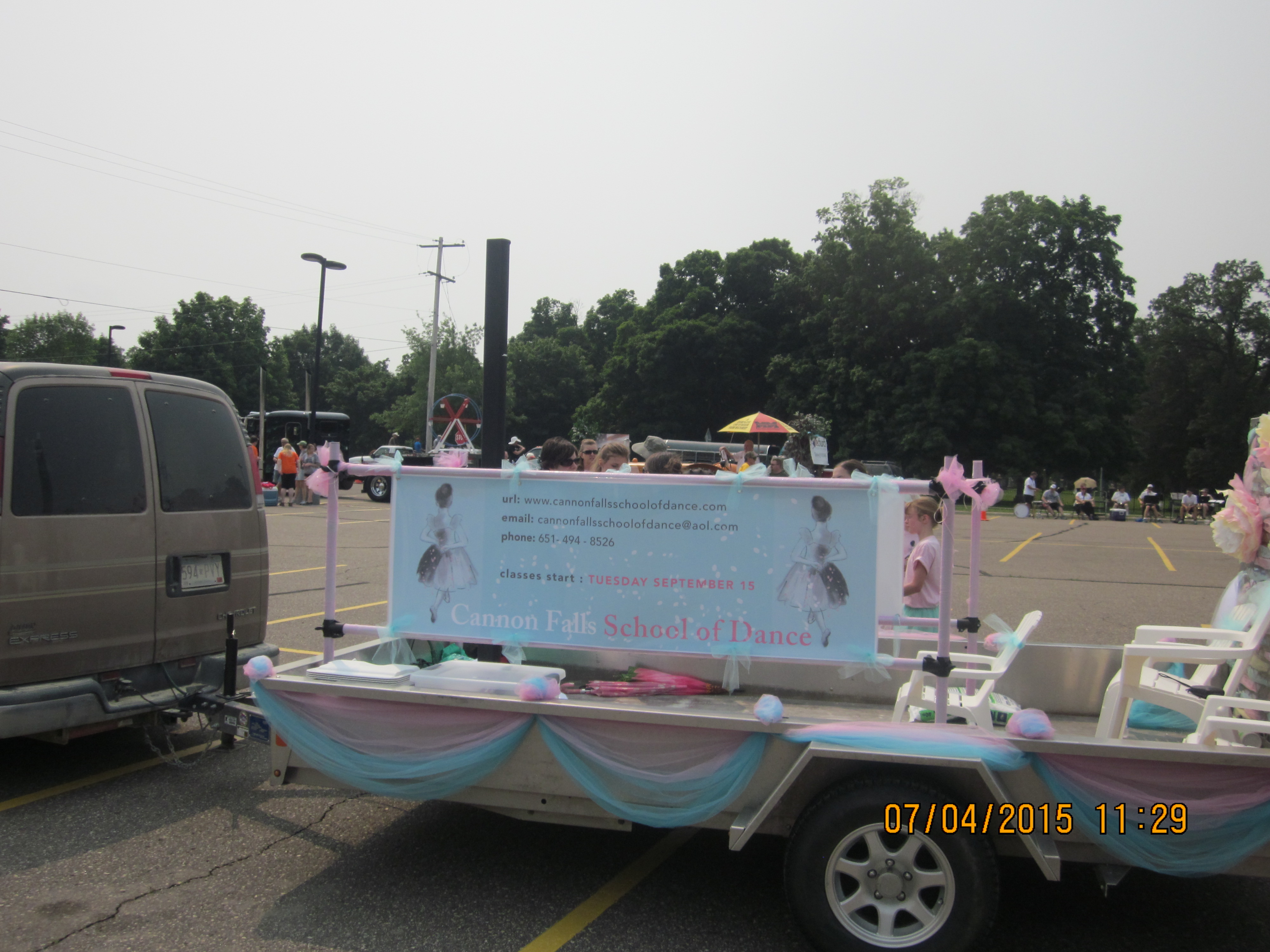 We had the honor of supply music for a parade float for the first time in the company's history.  This parade had 65 floats from Cannon Falls and surrounding areas.  It was a part of the celebration of 100 years of the Cannon Valley Fair.  
Here's the playlist to warm things up:
This Land Is Your Land-Bruce Springsteen
*Freedom Medley (Various Artists)
God Bless The U.S.A.-Lee Greenwood
I Wish I Was an Oscar Meyer Weiner as sung Star Spangled Banner
*American Dreams liner
Living In America-James Brown
*American Medley (Various Artists)
Star Spangled Banner-Whitney Houston
American Bandstand (Theme Song)-Barry Manilow
America The Beautiful-Ray Charles
*American Medley/Happy Birthday America (Various Artists)
R.O.C.K. in the U.S.A. (A Salute to 60's Rock)-John Cougar Mellencamp
*Bob Hope Joke/American Woman medley
Living In The U.S.A.-Chuck Berry
*Independence Day medley (Various Artists)
God Bless America-Linda Ronstadt
My Country Tis' of Thee-Lee Greenwood
See The USA In Your Chevrolet-Dinah Shore
American The Beautiful with President/MLK's speeches
Face The Flag-John Wayne
*Independence Day medley Part 2 (Various Artists)
American Made-Oak Ridge Boys
*Freedom Medley Part 2 (Various Artists)
We're An American Polka Band-The Casuals
*American Band medley
Saturday In The Park-Chicago
*4th of July medley/American girl part 2
Great American Cowboy-Sons of the San Joaquin
American Music-Pointer Sisters
*American Dream medley
This Land Is Your Land-Lee Greenwood
Surin' U.S.A.-The Beach Boys
Born In The U.S.A.-Bruce Springsteen
*American Safety Institute joke
Twistin' U.S.A.-Danny & The Juniors
Breakfast In America-Supertramp
Glenn Miller/I Love Lucy (medley)-Studio Band (Swing Style)
The parade took place with an estimated crowd of 20,000 and as ballerinas handed out materials about the school these were the selections played.
Cannon Falls School of Dance Parade playlist:
Prelude: American Kid-Go Fish (before the official start)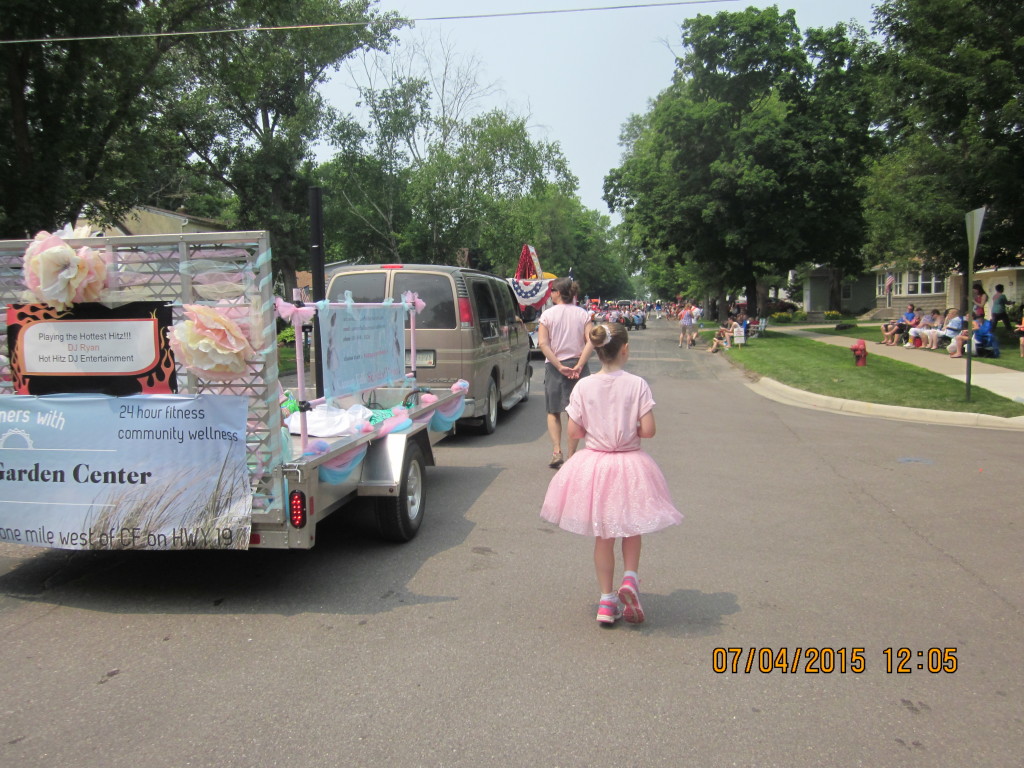 1. Stars and Stripes: Fifth Campaign: Coda VII. Allegro Motto
2. Handel: Water Music
3. Tchaikovsky: The Nutcracker, Opus 71 (Russian Dance)
4. Handel: Entrance of the Queen of Sheba
5. Stars and Stripes: Fifth Campaign VI. Variation II
6. Lullaby (Brahms)
7. Suite For Watermusic – Strings (Handel)
8. Swam Lake. Opus 20: No. 13 Danse Des Cygnes: IV Allegro Moderato
9. The Sleeping Beauty, Ballet, Opus 66 Act 1: The Spell (Le Sort Est Jete): 6. Valse
10. Simple Gifts from Appalachian Spring
11. Coppelia Act 1, No. 3, Mazurka
12. Blue Danube Waltz (Strauss)
13. The Nutcracker: Scene XII – Divertissement, Dance of the Mirlitons
14. Christmas Concerto – Strings (Corelli)
15. Eine Kline Nachtmusik – Strings (Mozart)
16. Fanfare For Trumpet & Orchestra (Masterpiece Theatre)
17. Fur Elise – Solo Piano (Beethoven)
18. Jesu Joy To Man's Desiring – Striungs (Bach)
19. Minuet – Strings & Flute (Boccherin)
20. Overture From The Barber of Seville (Rossini)
21. Overture From The Royal Fireworks – Strings & Trumpet (Handel)
22. Springs from 4 Seasons (Vivaldi)
23. Te Deum (Charpentier)
24. Mozart Symphony No. 40 in G Minor K. 550, 1st Movement
25. Tchaikovsky: The Nutcracker, Opus 71 (March)
26. Stars and Stripes (After Music by John Phillips Sousa): Third Campaign
A special thank you to all the dancers and moms that took the parade journey and walked 1.5 miles handing out materials on such a hot day.  It's not easy thing to do!